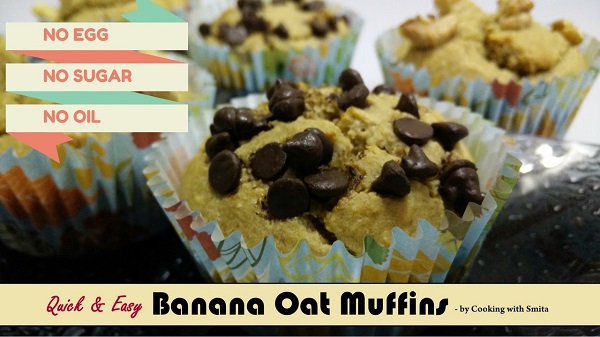 Banana Oat Muffins | Healthy Breakfast
These Banana Oat Muffins are very quick & easy to make and a perfect morning Breakfast Recipe. These Healthy Muffins contain No Egg, No Sugar, No Oil, No Flour and naturally sweetened with Honey. Learn how to make Tasty & Healthy Muffins at home.
Ingredients:
4 ripe Bananas
2 cup Oats
3 tbsp. Honey
1 tsp. Vanilla Extract
1/2 cup Curd
1 & 1/2 tsp. Baking Powder
2 pinch Salt
1/2 tsp. Baking Soda
– Optional Ingredients:
Chocolate Chips
Walnut (or your choice of dry fruit)
Instructions:
Preheat microwave at 180 degree Celsius for 10 minutes.
In a blender/mixer jar, add Ripe banana, Oats, Honey, Vanilla Extract and Curd.
Also add Baking Soda, Baking Powder and Salt.
Blend till smooth to prepare the batter.
Scoop into Muffin mould, lined with muffin cups.
Garnish with Chocolate chips or walnut or your choice of dry fruit.
Bake at 180 degree Celsius for 20 – 25 minutes until a toothpick inserted comes out clean.
Serve hot or store in the freezer and consume within a week.
You might also like Chocolate Chip Muffins
Watch Banana Oat Muffin Recipe video in Hindi