Crispy Potato Wedges
Here I'm sharing a basic recipe to make Crispy Potato Wedges at home. For making potato wedges, the potatoes are parboiled then fried. You could directly fry them, but trust me it won't give you that taste as this recipe would. Serve hot with any dip of your choices like Mayonnaise or Tomato Sauce. Follow this step-by-step recipe on how to make Crispy Potato Wedges.
Ingredients
4 medium size Potato (skin removed)
5 tbsp. Rice flour
4 tbsp. All-purpose flour
1 tbsp. Parmesan Cheese (grated)
1 tsp. Garlic (grated)
1 tsp. Italian seasoning
1/4 tsp. Oregano
1 tsp. Chilli flakes
1/2 tsp. Black Pepper powder
Salt to taste
Oil for deep fry
Instructions
Remove skin and cut each Potato into 8 pieces, keep them in fresh water while removing skin and cutting.
Boil water in a vessel and add some Salt.
As the water starts boiling, add potatoes and cook on medium flame for 4 – 5 minutes to half-cook them.
Switch off the gas and take out Potatoes in a plate and let them cool down.
To prepare the batter, take a mixing bowl and add Rice Flour, All Purpose Flour & cheese.
Now add Seasoning, Oregano, Chilli Flakes, Black Pepper Powder, and grated Garlic.
Finally, add some salt and mix well all ingredients.
Add water as required and prepare the liquidy batter.
Add half-cooked Potatoes in the batter and coat well.
Deep fry Potatoes in hot oil over medium-high flame until they turn golden brown.
Take out and place on a paper napkin.
Serve Hot & Crispy Potato Wedges with Mayonnaise or Tomato Sauce.
You might also like Crunchy Potato Nuggets Recipe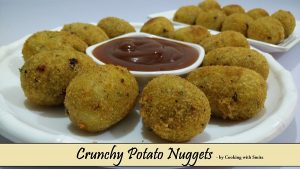 Watch Crispy Potato Wedges Recipe video in Hindi