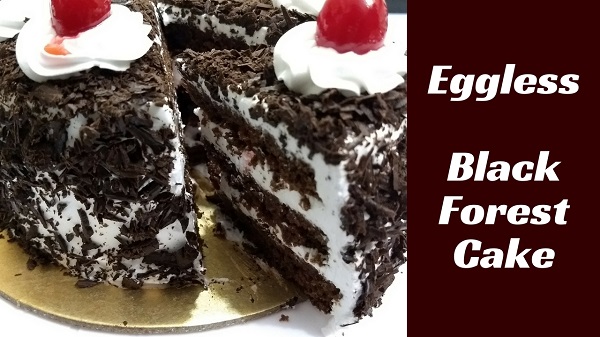 Eggless Black Forest Cake Recipe
A Simple and quick recipe for the most popular Birthday Cake in India – Eggless Black Forest Cake. Black Forest gateau & Black Forest Cake are the English names for the German Dessert Schwarzwälder Kirschtorte. It consists of several layers of Chocolate cake sandwiched with whipped cream and cherries. Follow this step-by-step recipe on how to make Eggless Black Forest Cake at home.
Ingredients:
6-inch Eggless Chocolate Cake 
Dark Chocolate
Heavy Whipping Cream
Cherry / Tinned Cherries / Candied Karonda Berries
4 – 5 tbsp. Powdered Sugar
Instructions:
I have made 6" Eggless Chocolate Cake; you can find the recipe here.
Cut Chocolate cake into three equal layers.
Use a vegetable peeler or knife to shave flat, thin shavings from a block of chocolate, keep in the refrigerator.
Add 4 – 5 tbsp. Powder Sugar in ½ cup water, mix well to make sugar syrup.
You can also use sugar syrup from sugar coated Cherries, watch the video below for instructions.
Whip the cream until it becomes stiff, keep in the refrigerator. For alternate method watch the video below.
Place one layer of Chocolate cake on the cake base over Cake Stand, soak the cake with sugar syrup.
Spread whip cream over the cake evenly.
Sprinkle some chopped cherries, add some more cream and spread evenly.
Add 2nd layer of Chocolate cake and repeat the process.
Now add a 3rd layer of chocolate cake and cover with whip cream.
Level the corners of the cake to make it smooth.
Sprinkle grated chocolate all over the sides of the cake and on top.
Add some whipped cream in a piping bag and use any decorative nozzle to decorate the cake.
Place whole cherries on the cake.
Cover the cake with a large bowl and keep in the refrigerator for 3 – 4 hours or overnight for the cream icing to set.
Slice and serve the Eggless Black Forest Cake.
You might also like Rava Cake (Semolina Cake) Recipe
Watch Eggless Black Forest Cake Recipe video in Hindi