Sheer Khurma Recipe
A traditional Muslim festive dessert Sheer Khurma or Sheer Khorma (Vermicelli Pudding) is a delicious dessert in Pakistan, Afghanistan, India and Bangladesh prepared on Eid-ul-Fitr and Eid-al-Adha. Sheer Khurma made from Vermicelli (Seviyan), Sugar and Dates. Follow this step-by-step recipe to make this creamy Mughlai dessert at home during Ramzan & Eid. Ramadan special Recipe.
Ingredients:
1 & 1/2 Litre Full-Fat Milk
1 cup Sugar
1 cup Vermicelli (Seviyan)
5 – 6 tbsp. Clarified Butter (Ghee)
3 tbsp. Raisins
5 Dates (sliced)
1/2 tsp. Cardamom Powder
25 Cashews
25 Almonds
25 Pistachios
1 tbsp. Chironji (Charoli)
Instructions:
Soak Dry fruits (Cashew, Almonds, Pistachios and Chironji) in hot water for 1 hour. Remove the skin and slice all the dry fruits except Chironji.
Heat 2 tbsp. Clarified Butter in a pan.
Sauté soaked & sliced dry fruits over medium flame for about 4 – 5 minutes, remove from pan and keep aside.
In the same pan, sauté Raisins & sliced Dates until nice aroma comes and Raisins puffs up, remove from pan and keep aside.
Now, add 3 tbsp. Clarified Butter in the same pan, add broken Vermicelli (Seviyan) and roast till golden brown. Stir continuously.
Stir and add Milk.
Cook over medium flame and allow the Milk to come to a boil.
Lower the flame and cook for 5 – 7 minutes more.
Vermicelli will become soft after 5 – 7 minutes of cooking.
Now add Sugar and Cardamom Powder, mix well and cook for another 5 minutes.
After 5 minutes, add Dry Fruits, stir and cook for 2 minutes.
After 2 minutes, switch off the gas.
Garnish with Dry Fruits and serve Sheer Khurma hot or cold.
You might also like Instant Bread Rasmalai Recipe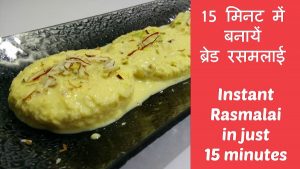 Watch Sheer Khurma Recipe video in Hindi