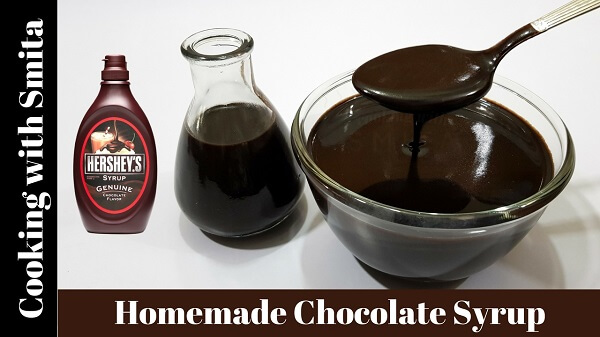 Homemade Hershey's Chocolate Syrup Recipe
Yes, you can make Hershey's Chocolate Syrup Recipe at home without any preservatives or chemicals. It's a must-have ingredient for garnishing Cakes, Ice Cream topping and preparing Chocolate Milkshake. It requires few ingredients and takes just 5 minutes to get ready. Believe me; it tastes very similar to the most popular readymade Hershey Chocolate Syrup. So, Next time when you are in hurry and kitchen is out of stock of Chocolate Syrup, just spare 5 minutes to make this chocolate syrup at home.
Ingredients:
½ cup Cocoa Powder
½ cup Sugar
2 tsp. All-Purpose Flour
1 cup Water
2 tbsp. Butter
1 tsp. Vanilla Essence
2 – 3 tbsp. Choco Chips / Choco Chunks
Pinch of Salt
Instructions:
Mix Sugar, Cocoa Powder and All Purpose Flour in a bowl and keep the mixture aside.
Add water in a saucepan and heat over medium flame.
In slightly warm water, add the Cocoa Powder mixture.
Stir continuously until Sugar melts.
Heat for 2 minutes until it starts boiling.
Switch off the gas when it starts boiling.
Add butter and stir well.
Now, add Choco Chips, Vanilla Extract, Salt and mix well.
Let it cool down to room temperature.
After cooling, Homemade Hershey's Chocolate Syrup is ready!
Store in refrigerator.
Use this Syrup in making Cakes, Ice Cream Topping, Chocolate Milkshake or any other dessert.
Watch Hershey's Chocolate Syrup Recipe – Video Tutorial
You might also like Homemade Condensed Milk Recipe