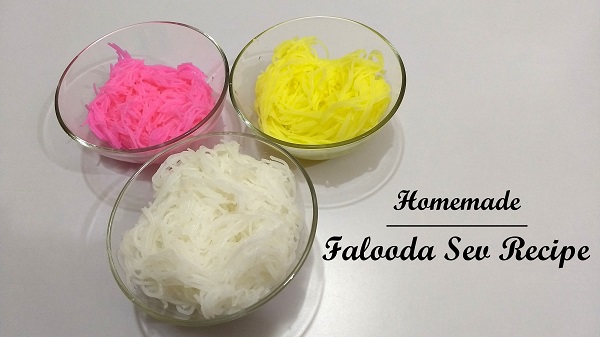 Homemade Falooda Sev Recipe
Homemade Falooda Sev recipe to make desserts like Falooda. It is very easy to make and requires just 2 ingredients and food colors if you want to make colorful Sev. It tastes better when served with Kulfi, Jelly, Ice Cream, Falooda, and other desserts. Learn how to make this Falooda Sev at home with this step-by-step guide.
Ingredients:
1/2 cup Corn Flour
1 tbsp Powder Sugar
Food Color (optional)
Instructions:
Add Corn Flour and Sugar in a bowl.
Add water and mix well to make a paste, make sure there are no lumps.
Heat a pan over low flame and add Corn Flour paste.
Stir continuously and cook till it turns transparent, thick and glossy.
Grease the Sev-Maker / Murukku Maker with Oil or Clarified Butter.
Place the plate/mold with small holes that you use to make thin Sev.
Turn off the gas and add the hot mixture immediately into Sev-Maker.
Take a bowl with chilled water and add some ice cubes.
Press the mixture through Sev Press into the chilled water such that the thin noodle strands are immersed completely in water.
Keep in freezer for 30 minutes.
After 30 minutes, strain the cold water, and Falooda Sev is ready to serve.
Serve with Kulfi, Ice Cream, Jelly or add in Falooda Milk.
Store in refrigerator (airtight container) and consume within one week.
You might also like Falooda with Ice Cream Recipe
Click here to Buy Sev-Maker Machine / Murukku Maker from Amazon
Watch Homemade Falooda Sev Recipe video in Hindi