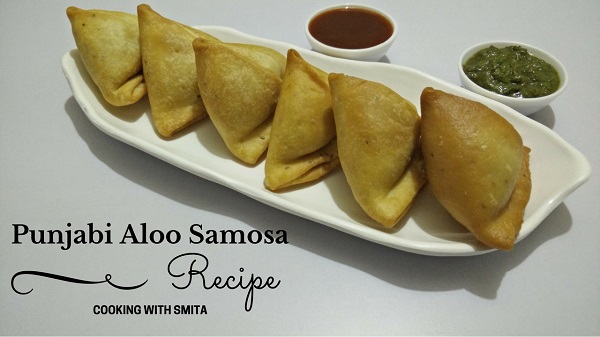 Punjabi Aloo Samosa Recipe
The main ingredient of Punjabi Aloo Samosa Recipe is Potato (Aloo), and so it's also known as Aloo Samosa. It is a very popular Indian Snack made from triangular pastry shell with the stuffing of Potato, Peas and other spices. Watch this video of "How to make Punjabi Samosa" step by step recipe in Hindi.
Ingredients:
250g All-purpose Flour
50g Clarified Butter
1 tsp Carom Seeds
4 medium size boiled mashed Potato
1/4 cup boiled Green Peas
2 tsp Ginger finely chopped
1 tsp Green Chillies finely Chopped
1 tsp Red Chilli Powder
1 tsp Coriander and Cumin Powder (Dhana Jeera Masala)
1 tsp Garam Masala
1/2 tsp Chaat Masala
Fresh chopped Coriander
Oil for deep fry
Salt to taste
1/2 tsp roasted Coriander seeds
1/2 tsp Fennel seeds
Instructions:
To prepare dough, add Carom seeds, Clarified Butter and Salt in All Purpose flour, mix well all ingredients.
Mixing these ingredients first will ensure that coating of Samosa will be crispy.
Add water as required and prepare a firm dough.
Cover the dough with wet cloth and keep it aside for 15 minutes.
Heat 1 tbsp. Oil in a kadhai over medium flame.
Add Ginger & Green Chillies in warm oil, sauté for about 1 minute.
Add mashed boiled potatoes and spices – Garam Masala, Dhana Jeera Powder, Red Chilli Powder, Chaat Masala, Coriander Seeds and Fennel Seeds, mix well.
Now add Salt, Fresh Coriander, and Green Peas, mix well.
Switch off the gas and let it cool down.
After 15 minutes, knead the dough lightly again.
Divide the dough into small equal pieces and roll in your palms to make smooth balls.
You can make pieces according to the size of Samosa you want to make.
Roll the dough pieces into an oval shape with a rolling pin keeping the thickness neither thin nor thick.
Cut with a knife or pastry cutter through the center.
Apply some water on the straight edge of the sliced samosa roti and join two ends.
Stuff the prepared samosa cone with the potato stuffing.
Apply some water on the samosa cone circumference.
Press both the edges and seal the stuffing.
Repeat the process and prepare all Samosa this way.
Heat oil in a pan over medium flame to fry samosa.
Fry Samosas in hot oil till they turn golden brown.
Remove fried samosas on a paper napkin to remove excess oil.
Repeat the process and fry remaining Samosas.
Serve hot Punjabi Aloo Samosa with Chutney & Sauce.
You might also like Cheese Paneer Samosa Recipe
Watch Punjabi Aloo Samosa Recipe video in Hindi